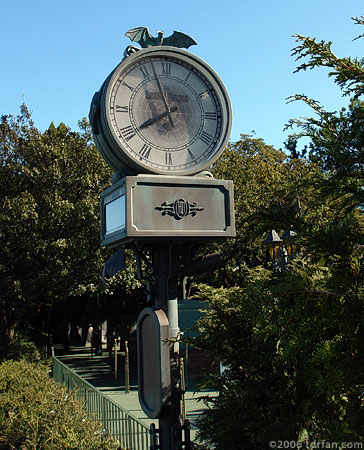 The Haunted Mansion is a trip through a haunted house, inhabited by 999 "happy haunts"—and you are cordially invited to be number 1,000. Of course this is a Disney haunted house, and the trip is sometimes fanciful, sometimes humorous, and occasionally you might get a bit of a scare.
The Haunted Mansion in Tokyo Disneyland is a very close copy of the one at Disney World in Orlando. It's located on the very west edge of Fantasyland, right next door to Critter Country. Some of the dialog is in English although most of it, including the narration, is in Japanese.
This is probably the only attraction in Tokyo Disneyland where you won't be greeted with a smile. The attendants that direct you on the attraction are definitely "in character" and do a lot to set the haunted mood of this attraction before you ever even enter your "doom buggy."
Be aware that the parade route passes right in front of the Haunted Mansion, so access before and during a parade is nearly impossible. Haunted Mansion has a FastPass option, but the attraction usually isn't that crowded (especially later at night) so you might want to use your FastPass option elsewhere.