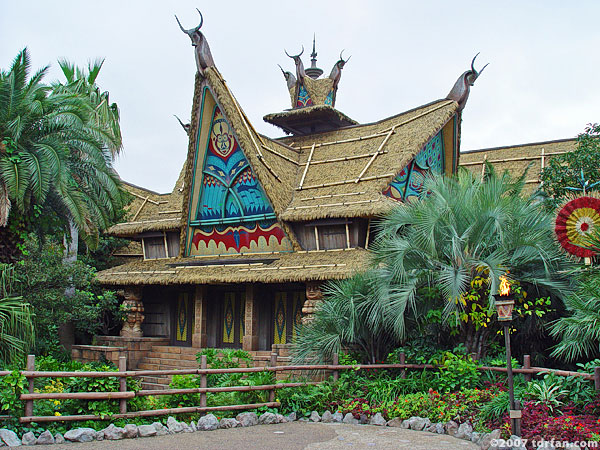 "All the birds sing words and the flowers bloom...". This lyric from the Enchanted Tiki Room's theme song only begins to describe what you'll experience when you step inside and take a seat. Although there are multitudinous varieties of birds and blooming flowers here—all of which sing—almost everything found in the Tiki Room joins in the music and song, from the fixtures on the wall to the fountain in the center of the room which comes alive with dancing waters and colored lights.
Unlike modern attractions like Star Tours which use state-of-the-art flight simulator technology, in The Enchanted Tiki Room you simply sit in a chair and watch the show. The original version of this attraction at Disneyland in California was the first Disney theme park attraction to have fully-functioning Audio-Animatronics—animated robotic characters whose actions and movements are synchronized to an audio soundtrack—and brought to reality Walt Disney's concept of three-dimensional animation.
In 1999 Tokyo Disneyland replaced the original Tiki Room show with a "modernized" version called "Get the Fever!" The show now focuses less on its Polynesian roots and more on mainstream American pop music. The four lead characters (all parrots) have been renamed, and are now dressed in costumes. In my opinion, this diminishes the intended miracle of the Tiki Room, wherein seemingly ordinary birds can talk, sing, and put on a show. And although its name is "The Enchanted Tiki Room," the Tiki gods have been completely left out of the waiting area pre-show. Maybe I'm old fashioned, but for me the new show lacks the magic and class of the original.
You'll rarely find a line for this attraction, which makes it a logical choice to visit on busy days when the waits for Jungle Cruise and Splash Mountain are one hour or more. It's also a nice place to rest your feet and cool off on hot summer days.