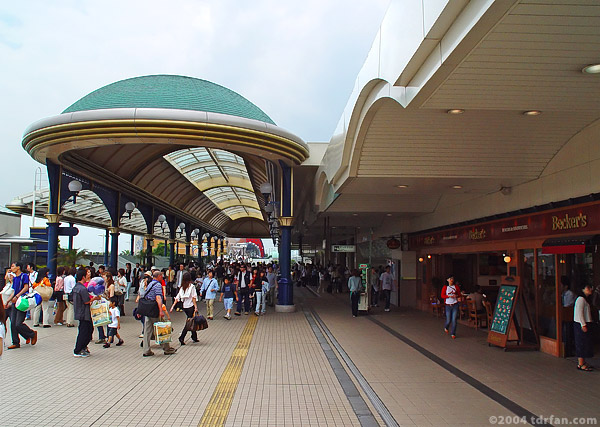 Although Tokyo Disneyland Park is bigger than its American counterparts, the parking lot is quite a bit smaller. That's because most people come to Tokyo Disney Resort via the Keiyo Line elevated train. The stop that serves Tokyo Disney Resort is Maihama Station (pronounced "my-ha-mah").
The Keiyo line starts at Tokyo Station. Most trains end up in a town called Soga, although additional trains have been added in recent years and some terminate before Soga. If you board at Tokyo Station, you'll arrive at Maihama in about 20 minutes (more or less, depending on whether you get on a "local" or "rapid"—both stop at Maihama).
Like the rest of Japan's public railway system, Maihama Station is safe, user friendly, and impeccably clean. There are a couple of places to get a quick bite, and two convenience stores, one located outside the station on the far right and one inside the station.
There are a limited number of lockers inside the station, but they are usually all taken. If you exit the station and take a stairway to the lower level, you'll find a large number of lockers of various sizes to choose from. There are of course locker facilities at the two parks, as well as Ikspiari. (A little tip: When Tokyo Disney Resort is busy lockers everywhere tend to fill up fast. If you can't find a locker at Maihama Station, chances are you won't find one at the parks either. However, the lockers at Ikspiari, particularly the ones on the lower level, are almost always available.)
Although many Tokyo-area hotels provide shuttle bus service to Tokyo Disneyland, I still prefer the train. You can come and go as you please, and there's just something wonderful about riding a train—even a modern electric-powered version.