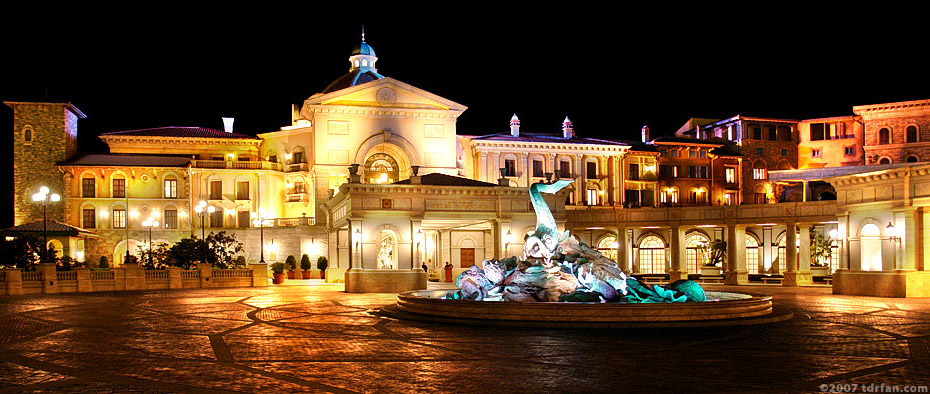 The MiraCosta is the crown jewel of Tokyo Disney Resort's many hotels. Indeed, it would be hard to argue that this is not the finest hotel at any Disney resort in the world.
What makes the MiraCosta so special? Many things. First and foremost, this is a luxury hotel in every respect. I have been lucky enough to stay at a few nice hotels, but at the MiraCosta I was in constant awe of the beauty and attention to detail that surrounds you from the moment you arrive at the front door.
While the MiraCosta is nearly an attraction all its own, there is something that makes it extra special for the Disney theme park fan: The Hotel MiraCosta is inside Tokyo DisneySea Park, specifically, it is part of DisneySea's Mediterranean Harbor. While not all rooms face Mediterranean Harbor, the ones that do offer gorgeous scenery and a prime viewing location for DisneySea's water shows.
As is to be expected, the rooms are beautifully appointed. Although they might be considered somewhat small by American standards, the rooms are significantly larger than the average Japanese hotel room. You'll find just about everything you'd expect in a luxury hotel, from marble-tiled bathrooms to amazingly comfortable beds. The hotel also features a spa, a workout room, two gorgeous pools (one indoors), and a variety of upscale restaurants. Hotel guests also get access to a special entrance to DisneySea Park, so you can avoid the longs lines at the main gates (although sadly staying at the MiraCosta does not give you free access to DisneySea Park—you still need to buy a ticket).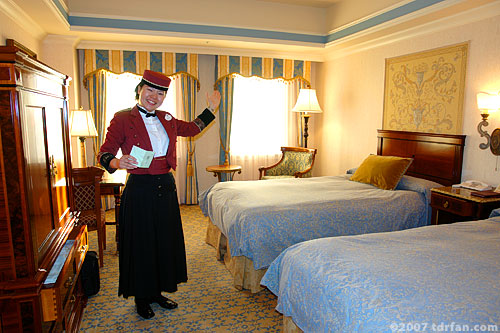 While Japan is famous for exceptional levels of service, the staff at the MiraCosta seem to take service to another level. They will go far out of their way to make sure you are happy, and someone always seems to be there to assist you exactly when you need them. Many of the staff speak English fluently—no need to worry if you can't speak Japanese.
Of particular interest to the Disney fan are representations of Disney characters to be found all around you, but tastefully and cleverly concealed so as not to be obtrusive. For example, woven into the pattern of the bedspreads are pictures of Pinocchio and Geppetto. It takes a sharp eye to spot these, but they are one of the many fanciful touches that make the MiraCosta so unique and wonderful. (If you're a fan of "hidden Mickeys," one of the greatest collections anywhere can be found in the painting on the MiraCosta lobby ceiling. It takes a while to find them all, and if a hotel employee sees you looking up they will likely come over and help you in your search should you so desire.)
Naturally all this opulence comes at a price. During the busy season, one night in a room with a prime view will likely rival the cost of your round-trip plane ticket to Japan. There are different pricing structures though, depending on the view and type of room you want to stay in. Rooms that overlook the inside of the Park but without a view of Mediterranean Harbor are less expensive (I choose one of these rooms when I stayed there), and rooms that do not face inside the Park are even less. Further, prices go down in the off season.
One word of caution for those that need Internet access: the MiraCosta doesn't provide any. I'm sure that's likely to change, so if you're planning a stay you may want to check and see if the hotel is currently providing it (and if they are please let me know so I can update this page accordingly), and if not make other arrangements. The phones do have data ports if you have a dial-up account that works in Japan.
While it is expensive, being a guest at the Hotel MiraCosta is an experience like no other, particularly if you're a Disney fan. If you can afford it I highly recommend at least one night's stay there. If your stay is anything like mine, it is something you will treasure and never forget.